Posts tagged
Reviews
0
Some reviews coming today/tomorrow are: Blood Snow – Grave Encounters – Just Before Dawn – The Blackout
Hope you enjoy them!
Rating: 0.0/5 (0 votes cast)
2
Ok well I'm moved bits and pieces around, the social network aspect I trired to cut down on so to share the WHOLE blog use the top four buttons, other than that please use the posting sharing buttons. Also added a Google Plus (or +), tidied up a few things and opened an Amazon store that you can see in the top toolbar. If you do see any bargains please go through this site as any affiliate money helps with server costs.
I have quite a lot of DVDs to either give away in a competition and to sell on for not very much to be honest. eBay is an option but any readers deserve something for taking the time to check the site out.
Here's a cool user bar for you put in your sig:
Rating: 0.0/5 (0 votes cast)
0
Plot: A large Halloween mask-making company has plans to kill millions of American children with something sinister hidden in Halloween masks.
Review: Don't read the plot! Damn it gives everything away, for how much money can this be changed for.
How the hell did people get hired to make a gem like this and not even realise it is beyond me. Fuck I know it doesn't have Michael Myers in it but you can feel his presence and the uneasy feeling when Santa Mira (the city) hits and the strange suits start coming after the main characters (Tom Atkins and Stacey Nelkin). Basically the Santa Mira factory and the Town's owner 'Conal Cochran' have put devices into the children's Halloween masks and shpped them all around the country – and it's up to a reporter/doctor (well spotted Shark) and fellow tag-alonger to find out what's going on. The tagger-on is actually the daughter of a man who died at the start clutching one of the masks yelling "They're gonna kill us. All of us".
Damn I wish they made films like this now, pity they don't, but fuck what a ride.
The 'Silver Shamrock' song will haunt you for days after, and that advert will prompt a forced YouTube search that ends in you literally wanting to smash the damn monitor in pieces as it's not even Halloween but that doesn't matter just play this fucking clip again and and and again…oh god.
See if it's a thinking man's film, if you're not confused at the start…you will be when the black suit men come down. I would have liked more backstory to be honest, maybe a flashback of how he brainwashed his henchmen? It's a tall-order but really the film is DAMN worthy sequel material.
As I said DONT watch the trailer before you put this on, or even go looking for info on it – sit back alone, or with your girl/boy/friend and try to figure out for yourselves what's going on.
If you're saying 'Fuck Michael Myers' at the end of this then you really didn't get the point of this review…or the movie.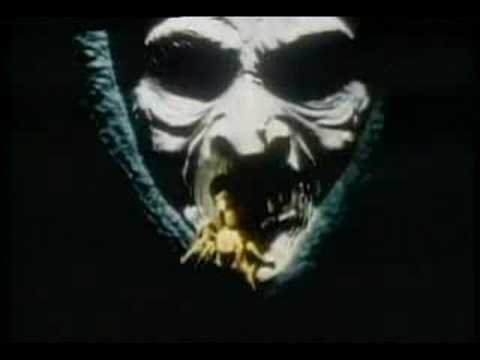 Trivia
The voice of the operator that Challis keeps getting when he tries to call out of Santa Mira is actually Jamie Lee Curtis.
Links
Rating: 4.0/5 (1 vote cast)