Posts tagged
fear
0
Plot: An unfortunate young man, whose father commited an unspeakable act in front of him as a child, travels with his mates to his uncle's remote hillside cabin so they can explore their inner fears by dressing up in costumes. Unbeknownst to the clan, the uncle has left a nasty secret behind for them to encounter.
Review: So here we are at the sequel to 'The Fear' that was reviewed beforehand, now only if I can find a trailer and some images I'd be set.
I was surprised to see that the Director Chris Angel also directed Wishmaster 3 and 4 – they were actually good sequels, yes some may argue but sure that's my opinion.
The sequel starts off with a brother and sister (or mother?) driving in Halloween costumes when then suddenly stop at a busted up car, the sister takes a look round and hears a scream – turns out there's a real killer on the loose and chop she's down. Ok well that part didn't sense as the killer dumps the kid in the boot and then floors the car.
To be honest it's probably going to be a 90′s hack 'n slash film with Morty shoved in somewhere along the line.
The film follows a bunch of teenagers who arrives at 'Michael's' (main character) relatives house to stay to explore their 'inner fear' – just like the first film really. It hasn't got the same level of tension as the first but sequels usually (well if not directed by the same person) tend to veer off into a different direction completely. This hasn't which is good, just expands a bit on the Morty killings (joke yes, but he does kill).
One of the characters called 'Crow' shows Michael Morty, but in this one it looks different…but in a bad way, wish they had kept the look and feel of the first one. The uncovering of it was a major disappointment in my opinion and just wrecked the rest of the film. He looks all buffed up and on steroids or something. Plus you can see it's an actual costume and NOT wooden like in the first film, sorry if I ruined Morty for you guys.
Anyway the killings start after a while and it's really a copy of the first in a way, except that this time they have to do an ancient ceremony for some reason. Supposedly  at the end of the ceremony all your fears will be gone.
About 50 minutes in and nothing remotely exciting has happened, no kills from Monty or anything…sigh.
Oh and the mask that Michael carries around with him just looks like the one from the Jim Carrey film 'The Mask'.
If you can pick the first or this sequel up for under 5£ then it's definitely worth checking out for a night's watch.
**Can't seem to find a trailer for this film, if anyone knows of one just contact me in the usual place.
Links
Rating: 2.0/5 (1 vote cast)
0
Plot: A weekend group goes to a remote cabin for "fear therapy". While each person is working to conquer their worst fears, they all become terrorized by a living monster made of wood which stalks each of them in turn.
Review: I honestly didn't know that Wes Craven pops up as a character (Dr. Arnold at the beginning) in this – did anyone else?
The film starts off with the child from the into part now in his teenage years, talking to a Professor about a workshop he wants to do on fear (nice play on the title). Well he approves it and off we go.
We lead into a girl walking home who unfortunately gets attacked by some guy in a sock mask and hoodie. The police tell us she was raped last night (I really do hate that in films) and the acting after that is…umm…questionable to say the least.
The workshop involves the fear group study driving to a place in the middle of no-where (road trip…sigh) to 'face their fears', but in the process they face off against a pretty cool killer. Why couldn't they have done this in an empty class room or something? For one they wouldn't get killed off.
The group find this weird wooden man that used to stand in a store, but when it closed it was brought to that cabin for storage. Typical dreadhead as well who states "You ugly man" as he leaves – that's 90′s horror for you I suppose.
Well the wooden guy is called Morty and is set up to be some fear counsellor that they tell their fears to – although when a visitor dressed as Santa appears and darkness falls – the killing begins.
Watch out for Morty by the window while two characters make out, pretty good effect – looks like he's pressing against the glass trying to get in.
It's quite freaky to see Morty (the wooden man) walk, he gets it just right if someone was made like that – also the possessed girl talking was unexpected too.
I'd actually like to get the soundtrack/score to the film, be interested in listening to it.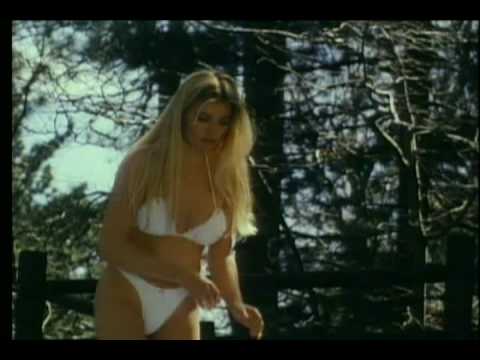 **It really is hard to find content or info on this film.
Links
imdb – Amazon
Rating: 3.0/5 (1 vote cast)
0
Plot: An attempt to pay tribute to Dario Argento giallo's, Blue Fear is one of early short films of independent fimmaker Darren Ward, director of ultraviolent action cult "Sudden Fury".
Directed by: Darren Ward
Cast: Darren Ward,Kelly Nelson,Nick Rendell
Review: Thanks to user damagedbrain from Cinemageddon for The VHS source.
Well what can I say about this short? A lot of Argento touches here and there (the gloves and blade at the start for instance). Considering the age of the VHS the viewing was a bit blurry but you get the picture about a quarter of the way in. Yes, there's a killer on the loose and it doesn't really get any better than that.
I wish someone would clean this up and put out a dvd of the title – then we can watch every inch of blood drip from those Italian inspired directors.
Sorry for the short review guys but it was a short film and it seemingly quite rare among the VHS circles…seems like a hunt for a good copy is in the cards.
Links
None
Rating: 2.0/5 (1 vote cast)